This month and last month CreativePro released two of my new Adobe Photoshop videos on using Smart Objects. Even though this news isn't as recent as it should be, I suddenly realized I didn't announce this on my blog yet. If you're into Photoshop and want to discover more about Smart Objects you can click on the images below to learn more!
Mastering Photoshop Smart Objects: Layer Comps
Mastering Photoshop Smart Objects: Applying and Editing Layer Filters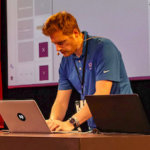 Bart Van de Wiele
A blog about my adventures as a public speaker and Adobe Solution Consultant.