After many weeks of careful consideration and talks with colleague experts I have very recently decided to accept an offer from Adobe to join their team as a Solutions Consultant. For this position I'll be active in the Benelux region in Europe (Belgium/Netherlands/Luxemburg) helping business clients choose the right set of Adobe design products to meet their objectives. But there's a lot more of course. And to help everyone understand my decision better I would like to explain what motivated me.
Amateur becomes designer
About 16 years ago I started messing around (and "messing around" IS the proper term for it) with Adobe Photoshop 5.5. I used it to create the most ugly, not-going-anywhere-projects you have ever seen. And who would have thought that the Lens filter in combination with Plastic Wrap would look cool to me during those days? Ah well, I was about 17 years old and never had any training in the program, nor graphic design in general so I forgive myself for making my Photoshop sessions a random click-fest.
But 2 years later I wanted to do more and took some basic graphic design education. I had a taste of Quark Xpress, Adobe Illustrator and did about 2 years of Maya 3D evening classes. And before I knew it I was experimenting with other kinds of software. I spent many nights with 3D Studio Max, started specialising in Adobe Photoshop and had Adobe After Effects and Adobe Premiere as midnight snacks. Before I knew it I was working as a professional designer and noticed that my sudden access to more software in a professional environment triggered my hunger for knowledge and technical details. And from that moment on I wanted to know what every pixel meant in every program.
Designer becomes trainer
After my design years it was time to do more with the programs. And for this I certified myself in a few Adobe programs (Photoshop and InDesign CS2, later other products) and started an Adobe Authorised Training Center as a new business unit for the company I was working for at the time. Later I moved to another training company and continued my training experience there, taking on more Adobe products and solutions. And as the cherry on the cake I continued my trainer experience in Sydney, Australia.
I've always loved training and I think I do a good job in understanding the wishes of my clients. And because I dealt with so many different companies, freelancers and businesses I had to consult with them before organising the actual training. As a minimum requirement it was very important to me that the client was investing in the right training and the right product. So before I knew it I was talking more about their business objectives and what their plans were with the knowledge they were hoping to acquire through my training sessions. And this changed my view on training and software and liked to think I was not just giving them technical training, but was also offering them a solution to reach their objectives. And every solution I was experienced with had an Adobe logo on it. This way of thinking became later even more important when digital publishing came into the picture. Print didn't really seem to change so the introduction of tablet devices and interactive assets was a real turning point in my Adobe software focus, I wanted to do more. And luckily, the company I was working for did offer me the means to learn the tools and solutions.
Trainer becomes consultant
Today I've come to a point where I'd spend a minimum of 8hrs a day with an Adobe product. And every change of an Adobe design product or service seems to have grown on me in a very organic and natural way. So today I still adore the design product features and love to come up with techniques and workarounds when needed for specific goals. But in the end I notice my way of working as changed from showing design features to offering a solution with the Adobe Creative Cloud bundle and the Adobe Digital Publishing Suite. And because of this it only feels natural that I make this next step and continue my enthusiasm for these products. I know that no software product is perfect, nor will a product ever be "done". But the thought of not being on the sideline anymore, have the opportunity to learn even more and work for the same team as the developers and product managers feels very exciting to me. And because of this I think this is a unique experience which will decide where I'll be going with my career over the next 10 years.
Will this decision change my credibility as a speaker or author? Yes, I believe, and perfectly understand, that praise for a certain solution sounds different coming from an Adobe employee vs an independent industry expert. Though I don't think the tone of my voice would drastically change. I took this under consideration but have decided I can't plan my life based on what other people might be saying about me. So my plan now is to just focus on doing the things I love and look to the future. So I am very much looking forward to my first day in the office (in May), meet my new colleagues and and start a new chapter in my life.
Enough already! What's the job about?
As a Solutions Consultant I will have a range of responsibilities that cover the Adobe design products and Adobe Digital Publishing Suite. The main activities include but are not limited to:
Recommend products and solutions to clients while assisting the Adobe sales team.
Provide internal training when needed.
Stay on top of things and gain expert product knowledge.
Present product features during Adobe events, press conferences and other public events.
Assist with other marketing related initiatives.
Support the Adobe Channel Partners.
…
In a nutshell this means I'll be offering technical support to assist the sales team and play a more public role during events, webinars and other Adobe product demonstrations.
I'm really psyched about the opportunity. The position is very challenging but also offers me other perspectives for the future.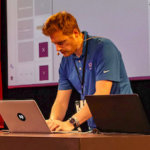 Bart Van de Wiele
A blog about my adventures as a public speaker and Adobe Solution Consultant.