Hi everyone! It's been a while since my last update. I've been very busy during the last year or so finding my place at Adobe. I also had a few things that took priority in my personal life which made me unable to record new videos or write new articles.
But now things have quieted down and the dust is settling. Which can only mean I'll have more time to post new things and try be more active. So thank you all for sticking around 😉
What have I been up to?
I spent the last year speaking and making appearances at many events in the Benelux region (Belgium – the Netherlands – Luxemburg). A few examples include Adobe User Group meetings, FITC Amsterdam, Awwwards, Microsoft TechDays conference, Adobe hosted creative events (like Adobe MAX and Adobe Creative events) and fairs. I've also hosted several Adobe webinars and have supported local partners with their business. During the rest of my time I've been focusing on the enterprise market supporting my colleagues and clients with their Creative Cloud Enterprise, Adobe Stock, Document Cloud and AEM Mobile (previously Adobe DPS) business needs. Needless to say I've already learned so much and the flow of information is non stop.
I'm hoping to have some more news soon about upcoming speaking gigs or new tutorials so stay tuned!
– Bart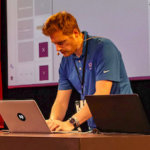 Bart Van de Wiele
A blog about my adventures as a public speaker and Adobe Solution Consultant.