This new video tutorial teaches you how you can use Adobe InDesign and the Adobe Digital Publishing Suite tools to create an automatic number sequence. The technique in this video involves nesting an image sequence object into a multi-state object which is then triggered using a button.
Feel free to share and comment. Thanks for watching.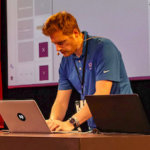 Bart Van de Wiele
A blog about my adventures as a public speaker and Adobe Solution Consultant.