I'm thrilled to announce I've been recognised as a "Community Professional" by Adobe. Here's a short extract from the Adobe site that explains what this means:
"The Adobe Community Professionals Program is a community based program made up of Adobe customers who share their product expertise with the world-wide Adobe community. The Adobe Community Professionals' mission is to provide high caliber peer-to-peer communication educating and improving the product skills of Adobe customers worldwide."
What does this mean to the readers of this blog? Nothing much really 🙂 But receiving recognition from Adobe is a great motivation for me to keep going and continue writing articles and sharing my knowledge.
So stay tuned for more!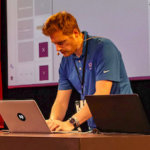 Bart Van de Wiele
A blog about my adventures as a public speaker and Adobe Solution Consultant.