Good news everyone!
I'll be hosting the next Adobe Users Group meeting in Sydney on 8th may in the Adobe office. During this 2hr session I'll be talking about how you can build and publish your iPad app to the App Store using the DPS Single Edition solution. Remember, your Creative Cloud licence entitles you to create as many single-publication apps as you want.
If you want to attend my session, or just check out the agenda be sure to visit this link.
See you there!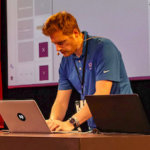 Bart Van de Wiele
A blog about my adventures as a public speaker and Adobe Solution Consultant.