I'm happy to announce the new InDesign Magazine #61 finally arrived! And I'm particularly psyched  about this one because it is completely devoted to Adobe DPS. It features an impressive list of 52 power tips for using Adobe DPS, of which 10 were provided by me. In total you can enjoy about 113 pages of DPS pleasure.
These tips go beyond the basics and are based on my product experience and troubleshooting so I hope you get to enjoy them. Remember you can get a subscription here.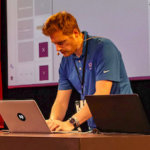 Bart Van de Wiele
A blog about my adventures as a public speaker and Adobe Solution Consultant.