Hi all,
Been a while since I was able to post anything new, sorry for that. I just finished an amazing 1-year stay in Sydney and only just moved back to my home city Gent in Belgium. It seems my travel in July and the hassle of moving back to Europe has delayed my blog activities here.
Luckily, the dust has started to settle now and I have a few very interesting projects in the pipeline so I'd suggest you stay tuned for more news soon.
— Bart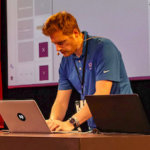 Bart Van de Wiele
A blog about my adventures as a public speaker and Adobe Solution Consultant.