I had the pleasure of meeting Kirsten Rourke (pronounced "K-ear-s-tin", she hates it if you get it wrong) while attending PePcon this year in Chicago.  Not only is Kirsten an awesome trainer and speaker, she also hosts a weekly talkshow together with Rick Zanotti called "Emediachat".
The show usually involves a relaxing chat with a central guest about technology and design. And I'm very happy to be that guest on their show on 3rd Sept at 6PM (Brussels time, click here to convert your time zone). It's always fun to talk about these subjects and I'm very much looking forward to the show.
The chat will be streamed live using the Ustream service, and if you want to watch the previous episodes be sure to check out their Vimeo channel.
** UPDATE ** the recording of the show is available here.
Hope to see you there!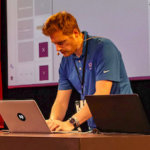 Bart Van de Wiele
A blog about my adventures as a public speaker and Adobe Solution Consultant.