Have you ever wanted to create web graphics for your Adobe DPS project that look crisp on both SD and HD devices? Well you can thanks to the newly introduced HiDPI settings in Adobe Muse.
My latest article on CreativePro shows you how to set up your project in Adobe Muse and proves that this new option allows you to use HD graphics for your projects on retina display devices.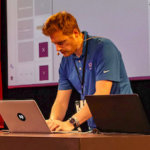 Bart Van de Wiele
A blog about my adventures as a public speaker and Adobe Solution Consultant.