I can't express how excited I am to be able to attend Adobe MAX this year in Los Angeles. But it's not all fun and play, no no no. I'll be working there as a technical assistant, supporting the hands-on workshops and other sessions.
So if you get stuck during any of the following sessions you might see me appearing out of nowhere:
If you're not familiar with Adobe MAX 2014 then I'd suggest you quickly check your calendar, choose your favourite sessions from the site and book yourself a flight.  It's an amazing event with:
191 speakers
228 labs
4000 attendees
world class speakers and specialists
live demos, prerelease software and sneak peaks
So I really hope to see you in Los Angeles this October!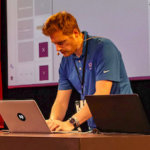 Bart Van de Wiele
A blog about my adventures as a public speaker and Adobe Solution Consultant.