It looks like I'll be staying a bit longer in the United States after my InDesign lab sessions during Adobe MAX and continue my journey to Washington D.C. to speak at the InDesign Conference. Needless to say my InDesign-geek heart just skipped a beat.
A busy two weeks
And here I thought I'd have my hands full presenting 3 (fully booked) InDesign Deepdive sessions during Adobe MAX in San Diego. But it seems I'll be sticking around a bit longer and jump on the next plane to Washington D.C. to attend and speak at the InDesign Conference. After having being unable to attend PePcon this year it seems I will still have a chance to catch up with my good friends (and fellow speakers) during the InDesign Conference.
Sessions
I'll be hosting several sessions that cover a wide range of topics:
InDesign: What You Need to Know about the Newest Features
Maintaining Your Digital Style Guide with CC Libraries
GREP Demystified
Make Your Layouts Come Alive with Interactivity and Publish Online
So it looks like I'll have 4 opportunities to teach you more about InDesign while cracking silly jokes. Especially during my "GREP Demystified" session as I'll be joining forces with my friend Erica Gamet.
The InDesign Conference is organised November 7-9, 2016 in Washington D.C. and I highly recommend attending if you're into InDesign, print and publishing.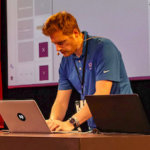 Bart Van de Wiele
A blog about my adventures as a public speaker and Adobe Solution Consultant.