Designers rejoice! OFFF is coming to Antwerp so get ready for 3 days of inspiring sessions, good food, art and a cool market place. Oh, and I'm hosting Adobe's Keynote session on the main stage. Fun!
OFFF  Festival has had its roots in Barcelona for many years now. And after having attended one of the festivals myself this year I have to say it was freaking awesome. So many speakers, art and raw talent under one roof is an awe-inspiring experience that you just can't miss. And lucky for the Belgians (or whoever lives nearby) OFFF is coming to Antwerp in a slightly different concept: OFFF by Night. So sessions start in the late afternoon and continue on through the evening.
I'll be hosting a Keynote session for Adobe, talking about various things. Here's my session description to give you a little hint:
The creative world is constantly evolving with new tools, devices, ways of communication and how we work and design. Learn how you can stay ahead of the game thanks to the newest innovations in Adobe's Creative Cloud. We'll also share insight into the latest design trends, the importance of social … and of course some Adobe magic. All packed into an informative and fun keynote session.
So if you're free on 22-23-24 Sept I'd suggest you book yourself a ticket and head down to Antwerp.
See you there!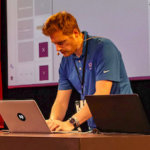 Bart Van de Wiele
A blog about my adventures as a public speaker and Adobe Solution Consultant.