No, it's too early for x-mas. But summer is over and that means that the creative conferences are back. As a matter of fact, I'm writing this (waaaay overdue) blog post from Newark airport while awaiting my connection flight. Yes, I'm on my way to the Adobe MAX 2017 conference in Las Vegas where I'll be presenting 4 Adobe InDesign "deep dive" lab sessions.
Adobe MAX 2017
With around 11,000 registered attendees, this year's Adobe MAX conference is the biggest ever. And with that also the largest creative event in the world. Special keynotes, new technology reveals, special guests, a few hundred breakout sessions and a great party, MAX has it all. Like the pilgrimage to Mecca, it's my opinion that designers worldwide should visit Adobe MAX at least once in their lifetime.
This year I'll be doing my InDesign Deep Dive lab session again, just like last year (though with updated materials). I was lucky enough to have been awarded with the highest overall presenter and session score for my session at MAX 2016. So I made sure to deliver a top quality session again this year. With 4 sessions of 100 attendees each sold out I'm hoping everyone is as excited as I am.
Other conferences
I'm also visiting and presenting at other conferences this year. Unfortunately not outside of Europe. As you may know by now I cover the Benelux region (Belgium, the Netherlands and Luxemburg) so the bulk of my activities always happen there. Though I really enjoyed the Making Design conference in Oslo last June, that was an amazing experience.
If you're from the region you can still see me present
It's been a while
Yes, I know. I haven't updated this blog in a long time. And needless to say, I've been very busy, both professionally and in my personal life. But this year has brought so many exciting things and Adobe has really been producing a lot of new content like
… and of course the upcoming new features which will be launched during Adobe MAX in a few days. So stay tuned for those. In the mean time you can find me on LinkedIn and Twitter if you want to connect or have me as a speaker at your conference. Talk soon!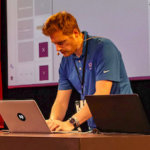 Bart Van de Wiele
A blog about my adventures as a public speaker and Adobe Solution Consultant.