Back from MAX 2017
I started out my career as a graphic designer, getting my hands dirty on every design product Adobe could come up with. But after a few years I learned that I had an even bigger love for teaching Adobe products to designers in a classroom environment and speaking at conferences. So that's what I did for the next 8 years, through out Europe, the US and Australia, before I joined Adobe in 2015.
Last year, I was a guest speaker at Adobe MAX 2016 in San Diego. And I was thrilled to learn that my suggestion to organise an Adobe InDesign session for advanced users was approved. Not only was I excited to put on my (classroom) trainer shoes again, I got to host a hands-on lab session for 100 people at a time. And the best thing of it all was that I got to do that 3 times in total during the MAX conference.
Why I came up with my session
During my years of learning Adobe software and visiting conferences and fairs, I found that my biggest gripe was that I almost never found people or speakers with real top level knowledge. So during events I'd come up with my list of questions that I wanted to ask the speaker or trainer at the end of their session (yeah, I was THAT guy), but was disappointed to learn that it was hard to get definitive answers from them. Plus, many of the "advanced" sessions I did were also usually too basic, probably to try and get more attendees by making them more accessible. So for Adobe MAX, I wanted to give the attendees a session they could really benefit from, with techniques they could use almost every day based on my own experience as a designer and trainer. But also fast-paced, using advanced functionality that would inspire InDesign veterans to do more with the product. So I came up with projects and scenarios for the automation of common print projects like catalogs, business cards and brochures using style automation, shortcuts and regular expressions. And I named my lab session the InDesign CC Deep Dive.
The women of Walt Disney's Animation
At the end of one of my Deep Dive sessions a lady approached me, enquiring if she could ask me a few extra questions. Her name was Tamara Khalaf and she's the Head of Design for Walt Disney Animation Studios in Los Angeles. Her questions were related to a large project she was working on and I could tell this project had a very high priority. Tamara was working on a huge 400 page book called "Ink & Paint – The women of Walt Disney's Animation" by Mindy Johnson. A book that talks about the history and contribution of women in Disney's studio, and how they painstakingly brought pencil drawings to vibrant, dimensional life. Sensing the importance of her project, I suggested Tamara to meet up with her a few hours later at the conference Community Pavilion, where we could sit down to further discuss her project. Of course Tamara came well prepared and brought the entire project with her on a USB drive. I spent the next hour combing through her InDesign document, trying to understand how it was structured, styled, how text input was managed and what Tamara's main questions were. And just like Tamara suspected, despite having a well structured document, she was losing way too much time on individual text frames, call out boxes, spacing, captions, headers and other design elements. Luckily for her I was able to teach her a few tricks and techniques that allowed her to automate most of these aspects so she could spend more time on the rest of the layout. In the end, I gave her as much information as I could during the limited time we had and she was visibly happy with the things she had learned. She saved her work and packed up the notes she so vigorously took during that hour and went on her way. A few months later I received a thank you message via LinkedIn from Tamara, saying she finally finished the book and that it was ready for print. She even wanted to send me a printed copy but in the end the 2.8kg book was proven too expensive to ship to Belgium.
InDesign CC Deep Dive – 2017
Fast forward to today. Recently, I was asked back to Adobe MAX 2017 in Las Vegas to teach the same InDesign Deep Dive session. My 2016 session had apparently awarded me a "MAX Master" title and I received further kudos for being the top overall speaker.
And to my surprise, I had received another message from Tamara saying she was again attending Adobe MAX and that she brought a printed copy for me to take home. And before I knew it, I was kicking off my lab session and noticed her sitting behind one of the lab computers again. Following along, taking notes, and learning as much as she can from the updated course exercises. After my session had ended she came up to the stage to say hi again and explained how she finished the project during the months following our initial acquaintance. And in her hands she was holding a massive book. "Here", she said. "We finally printed it, and I brought you a copy, as promised".
And before I knew it we were going through this amazing book. And not only was it beautifully and professionally designed, it also had so many stories about how all the classic Disney characters came to life. Inside the book I also found a hand written thank you note from Tamara, which I still keep at my desk at home, next to the book. A wonderful souvenir.
Last thoughts
I attend many events and conferences through out the year. And it's hard to keep track of the many times when I'm showing off Adobe tricks during a live presentation or somewhere on the web. Tricks that matter and really influence the way designers work. And because of that it's sometimes easy to forget that, as a presenter, we really have to keep that close relationship with the end user. Whether they're working as freelancers, working for a small agency, or for a worldwide enterprise, designers are the same, everywhere. And the size of their contract or employer has nothing to do with the fact that every designer wants to learn techniques they can actually use and apply in their daily projects. And sitting down for a little while to actually talk about their work and suggest how they can make it better can go a long way. So never underestimate the power of a conference because it can change lives.
If you're interested in purchasing the book, it's available via Amazon.com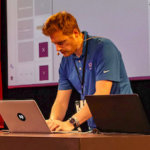 Bart Van de Wiele
A blog about my adventures as a public speaker and Adobe Solution Consultant.