CreativePro just published a step-by-step tutorial I wrote that describes how to reduce the total amount of ink in your CMYK images.  Having too much total ink in your CMYK document is a pretty common problem. Sure, there is a total ink limit option embedded in your CMYK ICC profile but that doesn't stop you from boosting the colours a bit more in Photoshop after a conversion to CMYK.
You can read the full article here on the CreativePro website.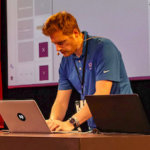 Bart Van de Wiele
A blog about my adventures as a public speaker and Adobe Solution Consultant.