I recently created an infographic to help clarify the Adobe Digital Publishing Suite workflow to clients at City Desktop Training where I work as a trainer. It gives an overview of the production workflow from InDesign to a published iPad application.
You can also download a PDF version here.
If you're interested in learning more about creating interactive documents or applications using InDesign and DPS  you can always book a training session through them.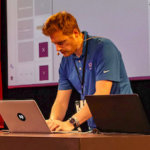 Bart Van de Wiele
A blog about my adventures as a public speaker and Adobe Solution Consultant.