During the next few months I'll be producing several short Photoshop video tutorials for CreativePro, focusing specifically on Smart Objects. Many people only associate Smart Objects in Photoshop only with copying and pasting over artwork from Adobe Illustrator. But you'll soon discover that Smart Objects can do a lot more than that. To kick off the video series I decided to show you how to recreate the famous Star Wars intro, just using Smart Objects.
Photoshop Video#1: Star Wars crawl
Now it's easy to recreate this famous introduction, only using native Photoshop tools. Click here to visit CreativePro and learn more about this fun technique.
Why Smart Objects?
Especially since the Oct 2014 update of Creative Cloud, Smart Objects have become my favourite Photoshop feature. They allow you to do things that were impossible to accomplish before. They offer you flexibility, save you time and allow you to work non-destructively.
These videos for CreativePro will each focus on specific aspects of working with Smart Objects, just to get you started. With these videos I'm hoping to get you both excited and inspired the next time you launch Adobe Photoshop.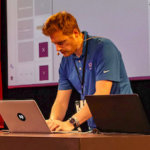 Bart Van de Wiele
A blog about my adventures as a public speaker and Adobe Solution Consultant.