Speaking at Adobe User Group Belgium meeting, Brussels
Next week, on Jan 27th, I'll be presenting 2 sessions at the next Adobe User Group Belgium meeting in Brussels. During these sessions I'll introduce Adobe Edge Animate and show how to create simple or more advanced HTML animations. This is a general introduction to Edge Animate and will be perfect for anyone who hasn't tried the software before, or isn't sure what it can do.
As a follow up session I'll be showing off how to build interactive websites without writing code using Adobe Muse . I really love Adobe Muse and think it's a great tool for designers who want to create web pages but don't want to get into code writing.
Attending these sessions is free of course and you can find more information here.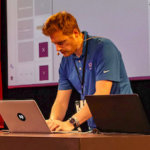 Bart Van de Wiele
A blog about my adventures as a public speaker and Adobe Solution Consultant.