I finally found the time and energy to record a new Photoshop video for the friendly folks at CreativePro.com. Photoshop seems to be my preferred weapon of choice these days and so I decided to share another great tip on using Smart Objects for layer blending. Intriguing right?
Become a Smart Object
I already did multiple videos on using Smart Objects the smart way and this last installment fits in nicely with the rest of them. The video is available for viewing on the CreativePro website (along with a lot more interesting stuff), or here:
And as you know I'd love to hear back from you guys so be free to post a comment on the CP site or here on the blog. Enjoy!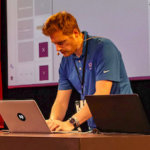 Bart Van de Wiele
A blog about my adventures as a public speaker and Adobe Solution Consultant.