I'm happy to announce I'll be speaking at PUBKON 2015 (die InDesign- & Publishing-Konferenz – the InDesign & Publishing Conference) in Cologne, Germany. PUBKON has organised their conference for a number of years now and have chosen a venue in Cologne this year.
What is PUBKON?
If you're familiar with PePcon in the US you'll probably already know what type of conference this is. It's basically a 3 day conference, split up into 1 day of hands-on workshops and 2 days of sessions. These 45-min sessions cover a whole range of different publishing related topics like
InDesign tips an techniques
Digital publishing solutions like Adobe DPS
Combining InDesign with HTML and CSS
eBooks and other ePub related technologies
Web publishing
…
My (English) sessions during PUBKON 2015
1. Making sense of the digital publishing landscape
There's no denying it, publishing is going digital. But what does this mean, and what solution would best suit your business? What's the difference between an ePub, interactive PDF, App Store app or online reader? It doesn't matter if you're completely new to digital publishing or just got started with it. You can get all your questions answered while we give you an overview of the digital publishing landscape. Possibilities, ideas, pricing, features, this session covers all the essentials.
2. Making long documents work for you
Do you sometimes need to make documents that are 50 pages or longer in InDesign? Then stop what you're doing and attend this session to learn more about the awesome InDesign features for long documents. Learn about custom numbering systems, building a table of contents, managing multiple files, cross references and so much more. You'll discover just how rich Adobe InDesign is and how well you can manage long documents.
So it looks like I'll have to brush up on my German (which will be a disaster after about 15 years) and look forward to spending a few days in Cologne.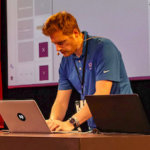 Bart Van de Wiele
A blog about my adventures as a public speaker and Adobe Solution Consultant.