The first 2015 issue of InDesign Magazine has just been released, issue #69. And this issue isn't just filled with lots of articles about wireframing and prototyping, it also includes my GREP of the month article.
In this month's GREP I explain a technique that allows you to find double entries in lists. Ideal when you want to clear out lists of names. products or numbers.
Of course, like always, you'll need a subscription to InDesign Magazine to be able to read the issue. And remember, monthly subscribers only get access to the current month's magazine. Annual subscribers get this month's issue plus 10 years of back issues!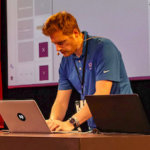 Bart Van de Wiele
A blog about my adventures as a public speaker and Adobe Solution Consultant.