After having worked as a Training & Application Specialist for 2,5 years I've now taken up the role as Training Supervisor at Lab9 in Belgium. Supported by Adobe specialist Dimitri Stevens and Apple specialist Dominique De Bouver it's my objective to improve the quality of all training services of the training department — Lab9 Academy.
Taking the next step
I'm pretty excited about this new role and have so many ideas for improving Academy's current services. Changing things in an organisation always takes time but I'm convinced I'll be able to make a difference pretty early down the line. And what about my own training? Well I'm adamant to continue working as a trainer myself. Training keeps me sharp and it's very important for me to stay in the field and learn what our students want from a training provider.
I'll be starting my new role immediately and it already looks like it's gonna be a very busy year. Luckily I can always relax a little bit at home while writing new articles for my favourite blogs 😉
Are you interested in hiring my or my colleagues' services? Then send your enquiry to academy@lab9.be.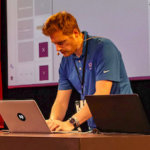 Bart Van de Wiele
A blog about my adventures as a public speaker and Adobe Solution Consultant.