To finish off my list of speaking gig announcements I'm happy to report I'll be going to Oslo in June to speak at the MakingDesign conference. This conference is held one week after PePcon so it would seem I'll be missing home  for a little while…
MakingDesign
Personally I wasn't really familiar with this conference, though the 2015 edition seems to be their 11th event which is pretty amazing. It's only thanks to my friend Erica Gamet that I got in touch with the organisation and from there one thing led to another.
The conference is aimed at Adobe users of design tools like Photoshop, Illustrator, InDesign, Muse , etc. and is hosted by an organisation called IGM. IGM is a company that offers professional Adobe and graphic design training in a classroom environment.
My sessions
Here's a description of the 2 sessions I'll be presenting in English.
Illustrator Creativity Blast
Many of Illustrator's features are often overlooked by designers. And most users do anything other than drawing shapes and applying colours. It's time to introduce the real Illustrator to designers and show off a series of tools and options that make Illustrator the great program it is today. Creative brushes, patterns, swatches and other appearance options will be demonstrated for your amusement and to sparkle your creativity.
Building interactive folio's with Adobe DPS
Learn how to build rich interactive documents using Adobe's built in digital publishing panels. You'll discover how to build interactive slideshows, image sequences, buttons and embed custom HTML. We'll also discuss how you can share your publications with others like colleagues or clients.
Information
All information: http://www.makingdesign.no/
9.-10. juni 2015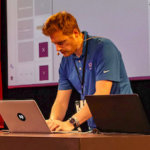 Bart Van de Wiele
A blog about my adventures as a public speaker and Adobe Solution Consultant.