This is gonna be a very busy period at Lab9. I'll be presenting two public Creative Cloud events later this week together with my friend and co-trainer Dimitri Stevens. I'm also presenting at an upcoming digital publishing event later this month.
Adobe CreateNow event
During the CreateNow event Dimitri and I will showcase the latest Creative Cloud features and services, share tips and other need to know CC information. If you're using Adobe Creative Cloud today then you have no excuse to miss these events. You'll learn now things and get to network with peers.
The first session will be held on 04/11/2014, presented in Dutch. The second session is later this week on 06/11/2014 and is presented in French. You can find more information and an enrolment form here.
Digital Publishing Event
This event will be held on 18/11/2014 and is presented in Dutch. The digital publishing lanscape is constantly evolving because of the constant evolution of mobile devices and ever growing market. But many designers have lost track of what digital publishing is actually about. What's the difference between an interactive PDF, ePub, iBook or an app? And what should you look out for when staring your digital publishing business? These and many other questions will be answered during a half day presentation. Click here for more information.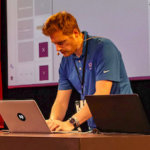 Bart Van de Wiele
A blog about my adventures as a public speaker and Adobe Solution Consultant.