With the recent developments on Adobe DPS (see my recent article about this), I was contacted by Enterprise Adoption.com to give my opinion on what's been happening in the world of Adobe DPS.
The concept is pretty simple, they asked me to answer 4 simple questions about this change and Adobe DPS in general. You can find my answers (and those of industry expert Branislav Milic) to these questions by reading the article here.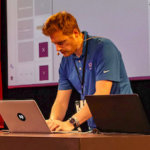 Bart Van de Wiele
A blog about my adventures as a public speaker and Adobe Solution Consultant.