In my online
article on the CreativePro website
, I discussed a series of tips on how to effectively organize a DPS project briefing. In that article I emphasised the importance of getting the correct information from your client to publish an app on the app store. This means that your client needs to supply you with info to make up the Apple iTunes product page. Eg. app description, keywords, copyright url, app category etc … And this process just became a whole lot easier!
The problem here is that the client usually owns the apple developer account but just doesn't know how to use it. That is why, in practice, the DPS designer (or agency) usually publishes the app for the client, using the client's Apple account. But that means that the client needs to supply that information to the designer in some way (taking certain mandatory and character limited fields into account).
An interactive PDF solution
To make this process easier, I created an interactive PDF file that:
Holds all the same fields that are required for submitting an application to the App Store.
Offers the same options and character limitations for easy use.
Has easy navigation options like bookmarks and top navigation for saving, printing, mailing or resetting the form.
How to use
As a DPS designer or agency, send this PDF to your client so they can start providing all the necessary information while you finish your design and app building. Once the PDF is safely returned to you it's only a matter of copying and pasting in the correct information in the correct fields and upload the PDF to Apple for approval.
Notes:
This PDF is best opened and used with the latest version of Adobe Reader. Get the latest version from the Adobe website.
This PDF is free to download and use by anyone, completely unlicensed.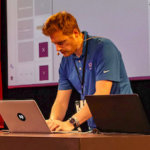 Bart Van de Wiele
A blog about my adventures as a public speaker and Adobe Solution Consultant.