I'm speaking at Adobe MAX 2020
It's that time of the year again! Adobe MAX, the biggest creative conference in the world is again taking place. However this time it is from the comfort of our couches and office chairs. But this years online edition does come bearing gifts. Because you can register for Adobe MAX for free and access all of the +350 sessions of the conference. So pretty amazing stuff if you ask me. And I am honored to be a part of Adobe MAX again!
How to combine Photoshop-Illustrator-InDesign
My session at MAX this year is about using Photoshop, Illustrator, and InDesign as a powerhouse combination to save time, simplify your workflow, and create impressive work. Discover the value and benefits of using native file formats in each application to make roundtripping easy, and learn how you can speed up production workflows using techniques involving file placements, snippets, linking or embedding files, and much more.
The session is split into three separate sessions in order to make them easily consumable. After all nobody likes to sit in on a 90 min virtual session.
In Part 1, you'll learn how to manage content in InDesign by:
Using linked Photoshop snippets
Using Photoshop layer comps to simplify your workflow
Knowing the difference when placing Illustrator layers versus artboards
Nesting InDesign documents
In Part 2, we'll focus on bringing content into Photoshop by:
Learning various ways of importing Illustrator artwork
Discovering the value of InDesign snippets for mockups
Learning how to use nested layer comps
In Part 3, it's all about Illustrator. You'll learn how to upgrade your artwork by:
Discovering how to exchange text with InDesign
Nesting native Illustrator documents
Using linked Photoshop snippets to your advantage
Be sure to register for my session here.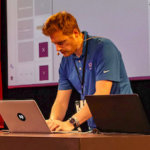 Bart Van de Wiele
A blog about my adventures as a public speaker and Adobe Solution Consultant.