After much hard work I'm proud to announce my second course has just been released on LinkedIn Learning. Adobe Color Essentials will take you on an explorative journey filled with color and inspiration. During this course, I will teach you how to use all of Adobe Color's features
and how they fit in your daily design routine. Taking you from the fundamentals of creating a color group to managing colors in Creative Cloud Libraries and tips on how to apply, share and save them. No stone will be left unturned as the second half of this course shifts from creating and exploring colors to teaching you some of the unique color manipulation features available within Adobe Photoshop, Illustrator and InDesign.
A colorful journey from Adobe Color Essential Training by Bart Van de Wiele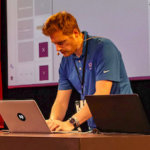 Bart Van de Wiele
A blog about my adventures as a public speaker and Adobe Solution Consultant.