I'm super happy to announce that I'm speaking at CreativePro Week early June. Well, virtually at least since this year CreativePro Week has become an online event due to the quarantine. And because of these changed circumstances you'll be able to follow all of my sessions online and rewatch the recordings later (which might be very valuable to some). Of course this is not the same as being able to say hi to myself and other speakers in person. But at least no one will have to miss out on great content this year. Here's a quick rundown of my sessions.
InDesign+Photoshop+Illustrator
Tuesday, June 2, 10:30 am – 11:30 am Central
It's the ultimate Adobe power-trio: InDesign, Photoshop, and Illustrator! But you'll never be efficient with any one of them if you don't understand how they work with the others!
Topics include:
Why layers are such a big deal
How to properly set up Photoshop and Illustrator files for InDesign
Choosing between layers and artboards
CC Libraries: the secret back door conduit
Best practices for managing vectors and pixels
And much more!
Managing Your Assets with Libraries
Tuesday, June 2, 3:45 pm – 4:30 pm Central
Working smarter-not-harder is possible when you leverage features in InDesign like native libraries and Creative Cloud libraries. Both offer a way to save, organize, and share your brand assets. In this session, you'll explore the differences between InDesign native libraries and Creative Cloud libraries, and see how you can significantly speed up your daily workflow and help you push through global updates over multiple programs and projects.
Topics will include:
The difference between InDesign libraries and Creative Cloud libraries
How to create and manage Creative Cloud libraries
How to store your assets in online folders
How to use the web portal to manage your assets
How to share your libraries and collaborate with others
Best practices when re-using assets in multiple Adobe applications
XD for presentations
Thursday, June 4, 3:30 pm – 4:30 pm Central
Adobe XD is changing the way many think about designing and prototyping for the web and mobile applications, but it's also found an unexpected use case. With its blazing fast performance and intuitive features like Auto-Animate, more and more users are starting to craft their presentations completely using XD. In this session, Bart will share their tips and tricks for how to get the most out of Adobe XD for presentations, how to build incredible animations to tell your story (without having to use a complicated timeline interface), how to collaborate with others to build your presentation, and how to share and present your final masterpiece.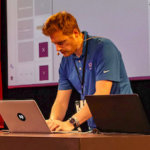 Bart Van de Wiele
A blog about my adventures as a public speaker and Adobe Solution Consultant.