It is that time of the year again where I am lucky enough to be able to announce a series of speaker opportunities. The conference season is almost upon us again and so I get to announce where you can find me (online).
April 15: Creators Innovation Webinar
This is a Dutch online webinar jointly organized by HP, Nvidia and Adobe where we talk about content creation, the role of A.I.  and online collaboration. While HP and Nvidia will talk about optimizing online work procesess and which hardware and solutions will keep your hardware secure.
April 15-16: Present to Succeed
Present to Succeed is the largest, premium online presentation conference for business professionals who want to improve the way they present their ideas, products, and services. Present to Succeed will immerse you into the world of storytelling, slide design, public speaking, and the most popular presentation tools on the market. During Present to Succeed I am presenting a session that talks about how to build better graphics for presentations, how stock content speeds up the design process and how AI-driven technology can make the difference when designing for on-time delivery.
April 27: TechData webinar: Adobe Sign + M365
On April 27th I am hosting a webinar for TechData, one of Adobe's partners. During this webinar I will show off how Adobe Sign integrates with Microsoft 365 solutions for automating and streamlining digital documents and electronic signature workflows. If you are a Microsoft user and are thinking of transforming your business, this is a session not to miss.
More info coming soon!
May 17-21: CreativePro Week
CreativePro Week is the world's best HOW-TO event for creative professionals who design, create, or edit in Adobe InDesign, Photoshop, Illustrator, Acrobat, and Microsoft PowerPoint. On top of that it is one of my favorite conferences so it's extra painful I won't get to speak there in person this year due to Covid restrictions. I have previously described the contents of  my presentations on my blog so be sure to read up here.
June 14-15: Making Design
Making Design is the Nordic region's largest Adobe conference focusing on creative design and inspiration in InDesign, Illustrator, Photoshop and UX Design. Normally it takes place in the beautiful city of Oslo but this year it is mainly happening online. In my session I'll talk about how to better organize your design assets, how to maintain your branding and how to better collaborate with designers and non-designers.
Of course more news is to follow soon! (did anyone mention Adobe MAX?)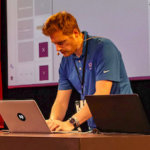 Bart Van de Wiele
A blog about my adventures as a public speaker and Adobe Solution Consultant.