Adobe XD for InDesign users
My cover article for InDesign Magazine has been published. It described why InDesign users should invest time and energy in learning Adobe XD and which opportunities that may bring to users.
InDesign Magazine is a subscription based online magazine that I highly recommend if you want to learn more about getting the fullest out of Adobe InDesign.
Learn more about InDesign Magazine here.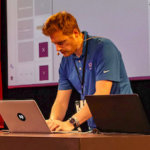 Bart Van de Wiele
A blog about my adventures as a public speaker and Adobe Solution Consultant.