InDesign, tips and friends
I'm very stoked to have been asked to speak during this year's CreativePro Week event (happening online again). This year I'll be presenting 2 sessions on Adobe InDesign.
10 Essential InDesign productivity tips
Let's kick off Day 2 with a fast-paced, fun-filled tip-a-palooza to boost your productivity! We'll zip through a ton of handy tips and tricks that every InDesign user needs to know. Plus, you'll get amped to soak up all the InDesign goodness the rest of the conference will bring.
If you're not customizing InDesign, you're not doing it right
Essential shortcuts
What to do when something (inevitably) goes wrong
New InDesign features you should be using right now
You've been using InDesign for a long time, but why are you still using it the way you did 5 or 10 years ago?! Adobe has released a ton of new features, but most InDesign users don't take advantage of them. Take this opportunity to get up to speed again and learn what you've been missing!
More information here.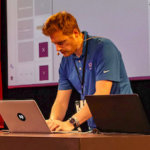 Bart Van de Wiele
A blog about my adventures as a public speaker and Adobe Solution Consultant.