It's official! I'll be speaking again at PePcon 2015 (the Print and ePublishing Conference) in Philadelphia, PA.  If you're into print or digital publishing I'd highly recommend you jump on a plane and get to Philadelphia to attend my session. But there's a lot more to discover …
The big one
As I made clear from my previous blog post about the conference last year, PePcon is something to look forward to. I'm into print and digital publishing workflows, design products and other Adobe solutions. But time and budget restrictions (that thing we all have) only allows me to attend a certain number of conferences a year. Especially when they're overseas, like in the U.S. This means I need to plan my schedule and budget every year to make sure I spend these two resources as best as I can. And PePcon has been on the top of the list ever since I attended the very first time in San Francisco in 2012.
Other conferences I'm looking forward to this year are the InDesign Conference and Adobe MAX, though I can't confirm yet if I'll be able to make it to those. As I explained in a previous blog post, my objectives for visiting conferences are:
Sessions: my primary focus is of course learning and attending sessions. So I need to be sure that I'll pick up tips, new programs, or a new (or updated) sense of direction.
Organisation: because I'm personally involved with organising small events in Belgium I think attending sessions overseas gives me a great learning platform because I get to be an attendee myself. So the personal experience I get as an attendee helps me to get things organised for my own sessions and events. The things I pick up could be about how I enrolled, how communication is done, their social media policy, surveys, catering, support, etc.
Speakers and keynotes: because I regularly spend time in a classroom environment or on stage as a speaker I constantly pick up tips on improving my own presentations, my slides, technical setup and even get to observe how people improvise, answer questions, introduce themselves or (try to) be funny.
Networking: the previous bullets in this list are pretty straightforward and most people just go with the flow. But networking is different and I do believe that the word "work" in "networking" is a true fact. And it sometimes takes some courage to let yourself be heard during a session or just step up to someone out of the blue. But I've learned that growing your network and socialising with specialists, Adobe staff and like-minded people is key to growing your own business and staying at the top of your game.
… and PePcon ticks all the boxes!
My PePcon 2015
This year I'll be presenting the "DPS Fundamentals: Building Folios for Digital Publications" session, just like I did in Austin in 2013. This is a half day session that focuses on Adobe's Digital Publishing Suite solution, and will take place on 1st June. This is one of the so called pre-conference sessions where you get to learn more about a specific topic, and will have the chance to meet other people that share your interest.
During this session I'll explain all the ins and outs about building digital publications using the DPS solution. This means we'll focus on the Adobe DPS workflow and creation of interactive documents using Adobe InDesign and other CC programs to further enrich your documents. A few of the bullet points I'll be discussing are:
Getting started
Building your first folio
Converting a print documenten to digital publication
Design tips
How to set up a DPS workflow with your client
Things to be careful for
Previewing content
Integrating audio, video, and animation into your layouts
Engaging the reader with interactivity such as buttons, multi-state objects, and scrollable frames
Dealing with Apple
…
If you're interested in this session, be sure to book a seat while they're still available! All information, registration and full conference schedule is available on the official PePcon website.
Hope to see you all there, and never hesitate to come and say hi during the conference!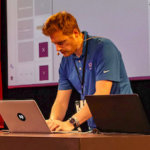 Bart Van de Wiele
A blog about my adventures as a public speaker and Adobe Solution Consultant.