Continuing my list of announcements, I'll be speaking in London on 13th March about the world of digital publishing. My good friend from Certitec, Jon Bessant, and myself have joined forces to present you with an informative day seminar discussing all things digital and mobile publishing.
Digital Publishing
The tagline of this seminar is: Simplifying the complex: The current digital publishing landscape. And the idea is to clear up some of the confusion about the digital publishing topic in general. Many designers struggle to keep up with todays evolutions which leads to loss of business and client disappointment.
This 1-day seminar is designed to run through what digital publishing options are out there, highlight the pro's and con's of each and really get you up to speed on the landscape. In the end you'll leave with a more clear understanding of what tool is best for you and your target audience!
Making sense of the digital publishing landscape!
Certitec, Adobe Authorised Training Centre
Friday, March 13, 2015 from 10:00 AM to 4:00 PM (GMT)
London, United Kingdom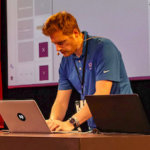 Bart Van de Wiele
A blog about my adventures as a public speaker and Adobe Solution Consultant.