Adobe drops support for Adobe DPS Single Edition apps
Starting May 1, 2015, Adobe will no longer support Adobe DPS Single Edition apps via Adobe.com or through your Creative Cloud license. And on December 4, 2014, Adobe will also remove DPS Single Edition as a purchasable product from Adobe.com. To most people this change will come as a surprise, especially since there's been more competition than ever from third-party solutions for creating apps from Adobe InDesign. Adobe DPS Single Edition (SE) has always been a great selling point for Creative Cloud licenses and seeing it disappear soon is inevitably going to lead to disappointment with clients and designers. After all it has been available since 2011. It was a way for small design firms or freelancers to create and build apps for clients and expand their range of services as an agency. The demand for digital publications has only increased over the last year and I think DPS SE was a great way for people to get into DPS, or digital publishing in general, for the first time.
ePub vs Single Edition
Today, more people are discovering the ePUB format, a format that DPS SE was not intended to support. And with the new InDesign CC 2014 update it is now possible to export your design to a Fixed Layout ePUB file (ePub3), which keeps your layout intact upon export. And once exported you can publish and sell this publication in the iBookstore. Adobe has discovered that many organisations who do wish to use a fully interactive app for their business are usually looking to develop enterprise-class apps, for which you can still get the DPS Pro and Enterprise versions of DPS. DPS SE was too limited offering only one publication per app, no push notifications, no analytics and limited support on other devices (like iPhone or Android).
I don't live in the U.S. and the market and size of organisations in my tiny Belgian country is significantly smaller than what you'd probably have in larger countries, even throughout Europe. I've been working with so many clients over the last few years providing training, consulting and supporting sales teams to offer the best publishing solutions (print and digital) possible. But in all those years I've hardly had any demand or request for ePUB type documents. For them DPS SE was a blessing, but building the actual app was a challenge to some designers. They weren't used to the administrative and technical requirements that building an iOS or Android app needed. So I am glad that the ePub3 format offers an easy solution to this problem. Plus the fact that native features like InDesign animations, multi-state objects and Edge Animate projects are supported only adds to the ease of use for the Fixed Layout ePub format. But unfortunately there are 2 main concerns with the ePub format from InDesign:
No default viewer for all devices: If you have a recent Mac or are running iOS8 on your iPad then you'll find iBooks pre-installed on your device. And you can open up ePub files using iBooks, making it very easy to read and open ePub documents. But Windows devices (both mobile and desktop) and also Android mobile devices don't have a default ePub reader available. And this bottleneck stops many people from just putting an ePub file on their website as a download. Fortunately this isn't always a deal breaker as many companies like to use the ePub format for internal use like as sales documents or interactive presentations.
Lack of commercial back-end system: When you publish your ePub on the iBookstore you can offer it as a free download or as a single purchase. There is no support for more advanced features like subscriptions, direct entitlement, push notifications, analytics or other options. And because of this it's not a suitable file format for professional publishers because it's very hard to monetise your publications when you're publishing periodicals. And remember that digital publishing is becoming more and more a marketing solution than a pure design solution. What's the point if it doesn't make you money in the long run?
What now?
I think the support for a fixed layout ePUB3 format is a huge leap forward and will definitely create opportunities for many people. Unfortunately Adobe chose to trade Adobe DPS SE for this new ePUB3 format. Personally I would love to have seen the ePUB3 option being added to Adobe InDesign without having to give up other great solutions. It's not as if SE wasn't working properly or there wasn't any demand for it. And the fact you can still create SE apps using your Pro or Enterprise license means that Adobe is still convinced that SE apps still serve some purpose. Taking away a publishing method from current users means they'll have to orientate themselves towards an alternative. This alternative might be the new ePUB3 format, a DPS Pro/Enterprise license but might also be a "Single Edition" solution from a third-party developer like Twixl Publisher or others. And I think the latter might happen because there is still a large group of designers out there that need the full interactivity of an app and aren't afraid to jump through the Apple and Android hoops to put it on the app store. And what about users who already have a live app on the store? If you already have SE apps on the app store Adobe will allow you to update these existing apps until May 1, 2015. But after that date you will no longer be able to use the SE solution to update your app. This means that if you still want to continue with a different apps solution you'll have to migrate your Folios and republish your content using a different solutions provider and update your existing SE app using this alternative solution. The alternative would be to switch your business over to a Pro or Enterprise license. But don't forget you now need a DPS Pro license for every DPS client you have (if you're working as an agency). So companies who e.g. have 5 apps online via SE might have to make a large investment in DPS Pro licenses, unless another third-party solution offers them a better deal.
To finish off
I've always been a big fan of digital publishing solutions and I've always loved the way Adobe DPS works. Today I train and support it and still try to help as many people as I can with it. So for me personally it's a pity that I won't be able to continue with my usual business. Because that's what it was to me, business. As an Adobe trainer working for an Adobe software reselling company you can imagine this announcement will change a lot for me. I do believe that Adobe has major insights into the current publishing market and their decisions are not taken overnight. But I hope they'll think more about the "little guys" in the industry who do need a SE solution for their business. Yes they're small, but they're with many. And I'm very thankful for the new ePUB3 which has really caught my eye. And then again, maybe this is exactly what the market needs? But what is sure is that the search for a standardised digital publishing solution is far from over. And maybe this is just the next step to an open source HTML publishing solution?
Here's the link to
Adobe's original announcement
.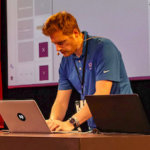 Bart Van de Wiele
A blog about my adventures as a public speaker and Adobe Solution Consultant.