I just finished a new post in the InDesign Secrets blog. Thanks to Tim Gouder's post on his blog InDesign-Blog.de I was able to do an English translation and post it on InDesign Secrets. The technique shows you how to add a double stroke to an InDesign table.
Click here to read the article.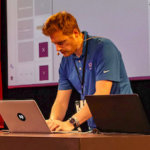 Bart Van de Wiele
A blog about my adventures as a public speaker and Adobe Solution Consultant.