It gives me great pleasure to announce that I'll be speaking at PePcon 2014 in Chicago this year. For those who are unfamiliar with the conference, PePcon ("The Print + ePublishing Conference"), is one of the biggest (if not the biggest) conferences that focus on InDesign, print and digital publishing. It is hosted by David Blatner and Anne-Marie Concepción, 2 renowned InDesign specialists. This is the second time that I'm able to speak at the conference (first time was in Austin, TX in 2013), after having attended the conference for the very first time in 2012 in San Francisco, CA.
Why I'm excited
My very first visit to the conference in 2012 triggered a lot of change to my career and opened up certain opportunities. First of all it got me into contact with other specialists, both speakers and attendees, which felt very refreshing. I've attended conferences in Europe before e.g. Adobe MAX in Barcelona and Milan or other Adobe events, but for some reason these haven't made any big impressions on me. PePcon was the first conference where I really felt at home. Networking with people there has left permanent results in my address book and I feel a lot more connected to everyone who has an important role to play in the publishing world.
Second, it gave me a chance to present my own professional activities and profile to others, which led to new challenges and even some remote overseas training. Shortly after my return home from the San Francisco edition I got an invitation from Mike Rankin asking if I was interested in writing for InDesign Magazine, and other opportunities quickly followed. I'm still very much in contact with a lot of people from around the world who I have met during one of the PePcon conferences, including someone from Sydney, Australia. And it is through her that my plan to migrate to Australia for one year came about. So if I hadn't gone to San Francisco, I'd probably not be writing this blog here from Sydney. And despite having to take a 20hr trip to get to the conference from Sydney I still think it's worth it.
So next time you visit a world-class conference like PePcon, make sure you take your time to network and get to know other people. You never know what other opportunities might be hiding around the corner.
If you're interested in attending the conference this year, be sure to use my personal discount code CH23E to get $50 off!
My PePcon 2014 sessions
I will be presenting two sessions in this years edition:
Head to Head GREP
This is a session that I'll be presenting together with my friend Erica Gamet. Erica is a world-class speaker and leader of the Denver InDesign User Group. You can check out her site if you want to know more about her. (But take my word for it, she's great.)
As you might have assumed, this session focuses on GREP functionality within Adobe InDesign. Erica and myself will try to dazzle each other with our GREP skills and see who can present the best GREP expressions. We'll be using real life examples for this session so I'm sure they'll look very familiar to the attendees. This 1-hour session will take place on monday 16th june.
Publishing Your iPad App with Adobe DPS: live app building
This session is one of the post-conference sessions. Attendees are free to book this extra day as a separate visit to the conference where they choose any of the post-conference sessions that are available in the morning or afternoon.
Live training, videos and tips on building digital publications using the Adobe DPS solutions are getting more and more common these days. But building the actual application from those publications is equally important because it represents your final product. Creating this application for any of the iOS  or Android devices seems to have a reputation of being overly complicated, which is not really true. It does require you to jump through a few hoops but achieving your goal is more easily accomplished than you think if you have the proper preparation, like any other job.
During my session I'll be creating an iPad application, "live" on stage, while talking about the ins and outs of the DPS publishing workflow. I'll talk about how to deal with Apple (or Google), how to get your accounts and/or licenses together and I'll share tips on how to get your applications approved. If you have some DPS experience but are unsure about taking that next step I'd highly recommend you attend my session.
This 3-hour session will take place on wednesday 18th june.
If you want more information about the conference sessions, speakers, dates or activities, please visit the PePcon website or follow them on Facebook or Twitter.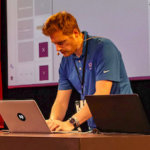 Bart Van de Wiele
A blog about my adventures as a public speaker and Adobe Solution Consultant.