2017: a new year = new conferences
Just like last year, 2017 will be filled with conferences and other interesting events. And lucky for me I get to speak at several of them again this year. So if you're around and you have a few hours to spare be sure to attend a few sessions. The importance of learning new skills, being agile and knowing what's happening in the world of design and technology has never been greater. Here's a preliminary list of what's happening in my world:
I'll be speaking at:
Attending (not speaking, or too soon to say):
Interested (but we'll see what happens):
6-7-8th April: OFFF Festival (Barcelona, Spain)
TBA: OFFFbyNight (Antwerp, Belgium)
TBA: Bump Festival (Kortrijk, Belgium)
If anyone else is interested in hearing me speak, I wouldn't mind flying to the USA, Japan or Australia for a change 😉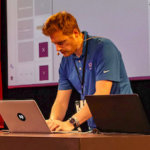 Bart Van de Wiele
A blog about my adventures as a public speaker and Adobe Solution Consultant.